The 2020 Jacksonville Orchid Show IS Cancelled.
|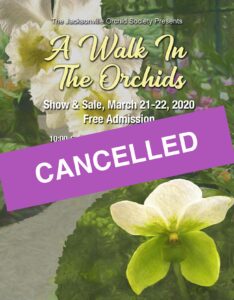 As a result of the ongoing national and Florida State emergencies declared as a result of the ongoing COVID-19 pandemic, the Jacksonville Orchid Society is canceling the 2020 Jacksonville Orchid Show. We do not take this action lightly, but only after due consideration of the state of emergency and with full consideration of the public's welfare.
We regret that this action will significantly affect the many visitors who were looking forward to this annual event. We are also sorry for the negative effect this will have upon our vendors without whom this Orchid Show would not be possible.