11-12 September 2021 Jacksonville Orchid Society Fall Orchid and Plant Sale
|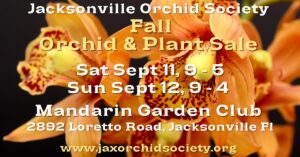 The March Jacksonville Orchid Society (JOS) Orchid Show is now a distant memory. But you have to ask yourself, did you buy enough orchids?
Now that Summer has arrived, it dawns on many orchid growers that they missed an opportunity at the Orchid Show. And now it is too far to drive to get to another show.
Have No Fear. The JOS has a solution – A Fall Orchid and Plant Sale!
Mark your calendars now for 11-12 September 2021 at the Mandarin Garden Club. We'll have a number of select orchid, plant, and other vendors on hand to help you make it through the comming WINTER before the 2022 JOS Orchid Show.
Date and Times

11 September 2021
9 AM to 5 PM
12 September 2021
9 AM to 4 PM
We hope to see you soon and will post more information as it becomes available.